When using the Brave Browser, you may experience some problems accessing recordings or other features such as Snapshots. This is due to the "Brave Shield". This Shield aims to heighten your privacy and security while searching the web with Brave. Below is an example of the error message you may receive while the Brave Shield is enabled.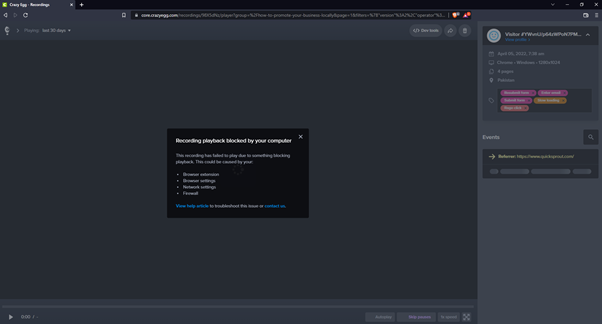 Disable Brave Shield
Step 1

To access the Brave Shield settings, click the "Shield icon" located to the right of the navigation bar.

Step 2

To disable the Shield, click the switch button. This will automatically refresh your page and the recording should appear correctly. If your page does not refresh, please do so manually.
Note: Disabling the Shield will suspend all of its features. To continue using Shield features, you will need to re-enable it by clicking the switch button once you have completed your work on Crazy Egg.