For many businesses, marketing research begins and ends with Google's Adwords Keyword
Suggestion Tool. It stands to reason that the largest search engine would typically have the
most data on what, exactly, users searched for, how much competition is out there, and how
much it might cost to bid on those keywords.

But that's only one piece of the puzzle.

Too often, great deals of attention, time and money are paid toward getting that traffic, with
very little done to turn those visitors into happy customers. For that to happen, you need much
more than search engine data.
YOU NEED MARKET RESEARCH
And fortunately for businesses on a budget, market research doesn't have to involve large
focus groups or tedious user profiling. You can glean quite a bit from your competitors, your
target market, and even your existing customers. For example, let's say you've just launched a
website devoted to eco-friendly products and recommendations for expectant mothers.
Although it sounds like a very small niche, this is a specialty area that has actually become a
very hot topic—so there's a lot of competition out there.

But in many cases, you can find out exactly what your users might want, just by spying on your
competitors. Take this example from EcoMom.com: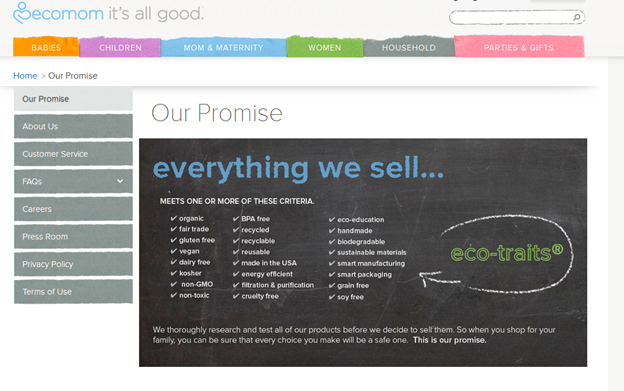 EcoMom.com shows what they look for when listing products on their site
Under the "Our Promise" section, they show a complete checklist of what criteria the products must pass in order to be sold on their site. Pretty straight-forward, right? Except that if you look a little closer, you can also gather some important details about the shoppers they're looking to attract:
May have digestive issues or food allergies to gluten, milk products, or soy
May avoid certain foods for religious or lifestyle reasons
Are concerned about the well-being of the planet and animals
Want to leave a smaller carbon footprint on the world around them
Are active in recycling/green-education efforts
It stands to reason, then, that these types of users would likely be members of eco-friendly organizations and movements, involved or interested in politics, perhaps growing or sourcing their own food and biking to work—among other things. These types of concerns also carry over to how they raise their children, so giving moms that peace of mind is vitally important to an ecommerce site like this.
See how much information you can learn just by visiting a company's About page? Granted, not every competitor is going to let you peek behind the curtain, but most have an Our Mission, Our Values or other statement on their site that you can read.
The Benefits of Live Testing
Live user testing lets you take specific users who fit your criteria and ask them questions. There are several benefits to doing market research this way:
You'll get real, unbiased feedback from people who make up your target audience (or close to it!)
Get direct, qualitative analysis of your pages, navigation or screenshots
Uncover unknown sticking points or areas of friction that are frustrating your users
Segment your test based on different geographic areas, different browsers, operating systems, and even mobile devices
For the best possible results when user testing, you'll want to create a set of tasks that have your users engaged in your site—such as sorting products based on where they'd expect to find them, navigating through the checkout process and giving feedback as they proceed, and so on.
What Kinds of Questions Should I Ask?
This will depend on what you want users to test—but most commonly, questions are broken down into different types that focus on different areas of the site—such as:
Do users know how to navigate the site effectively? Are they aware of where to find different products or do they stumble?
Do users typically use breadcrumbs to retrace their clicks or do they rely on the back button?
Does the site search deliver expected results?
Can users take advantage of product filters to sort and segment items? Were the results what they wanted?
Does what's displayed at checkout match what the user would ordinarily expect to find?
Does the user have any concerns about providing requested information before checkout? *Note: user tests do not ask for credit card information, or they typically provide testers with a fake name and number to conduct the test with.
Are there any unusual error messages or problems filling out forms?
With most user testing applications, you'll be able to see a video of the user's interactions with your site, so you and your team can pinpoint areas of difficulty or sections that may be confusing or even broken.
User Testing Tools
The next step is to actually conduct a user testing session. The good news is there are a variety of tools that can help—from finding you the people who fit your target profile to helping you understand and analyze the results you get. Here are a few of our favorites.
Crazy Egg Heatmaps
Obviously, we're a little biased, but a good heat map is necessary to help you track where users are clicking on your website. The more clicks in a specific area, the "hotter" it is—see below: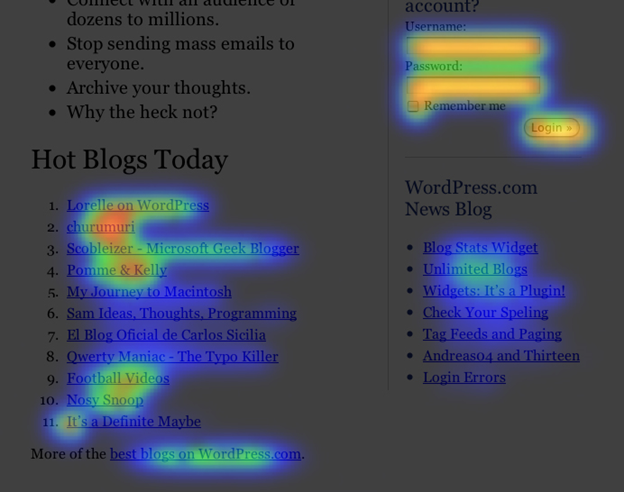 Heat maps aren't all we do. We also do scroll maps, which show you how far users scroll on your website before their attention span fizzles out.
And we do confetti maps, which let you tie user clicks to their source. For example, are Facebook users or Twitter users more likely to click the "share" button on your website? Not all traffic clicks in the same place—so why treat it that way?
You can get a free trial with full functionality of the service at CrazyEgg.com.
Our clients have been known to completely redesign their site based on the information they gleaned from Crazy Egg heat maps. If it can have that kind of impact on one site—think about what it could do for your own.
Instant.ly
Instant.ly has a network of 12 million+ users ready to help you conduct your user testing. There are no limits to the questions you can ask on your survey and no limit to the number of responses you can collect—although the more questions you have, the more likely people will drop off before they complete it.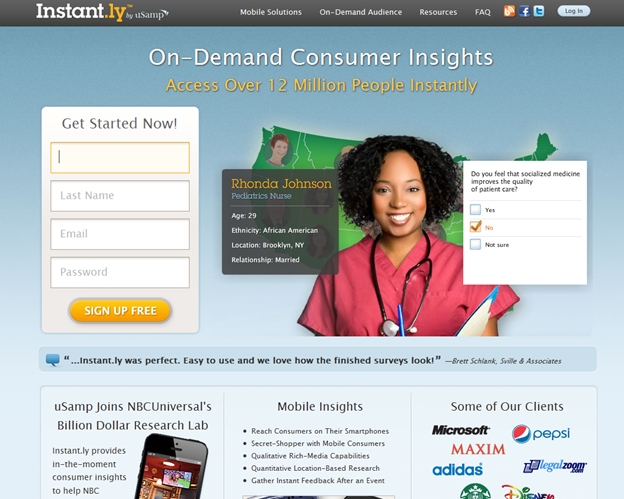 Depending on the information the survey taker has elected to provide, you can learn their name, age, occupation, relationship, location, ethnicity and even income level. There are both free and paid varieties available—with the free version sending out to your own contacts and social networks while the paid queries Instant.ly's own database of customers.
One of the points that sets Instant.ly apart from the competition is its mobile device survey offering. You can use a QR code to launch a survey after an event, embed ads or logos and ask for audience recall, or invite mystery shoppers to double-check products, displays, and so on. The surveys work on both Android and iPhone devices, and, as with the user testing sessions, free and paid versions are available.
UserTesting.com
Usertesting.com is one of the most popular choices for website testing. Using a proprietary system, they record videos of users performing actions you specify on your site while giving you their thoughts, suggestions and feedback.
What separates UserTesting from other testing and survey sites are its pre-made templates, which already contain most of the types of questions you'd want to ask. With these templates at your fingertips, you're not completely stuck on what to ask, and you know you're asking the questions that will give the valuable insights you need to improve your ecommerce website.
Mobile results are available for both Android and iPhone/iPad users. You can request users to fill out written questions in addition to the videos. And you can choose the number of participants, with the price increasing per participant.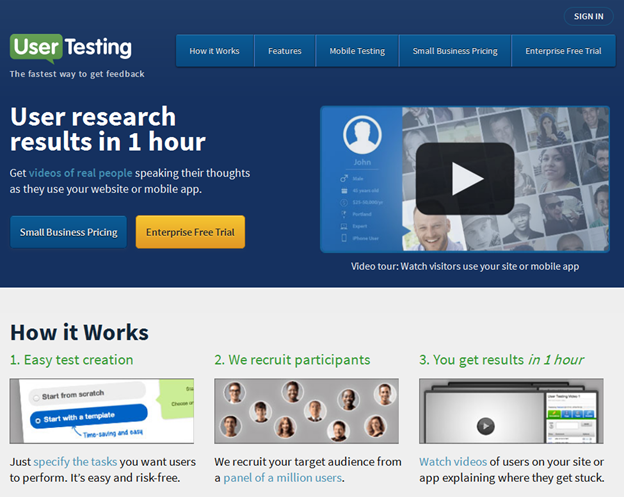 UsabilityTools.com
UsabilityTools has two suites, one for user testing and one for conversion optimization. Each works independently of the other.
The user interface (UX) testing portion allows you to conduct scenario-based tests, enable card sorting (let your users place navigation elements in the way that would make the most sense to them), click tracking and surveys among other things. The conversion suite incorporates mouse-tracking, heat maps, and feedback tools.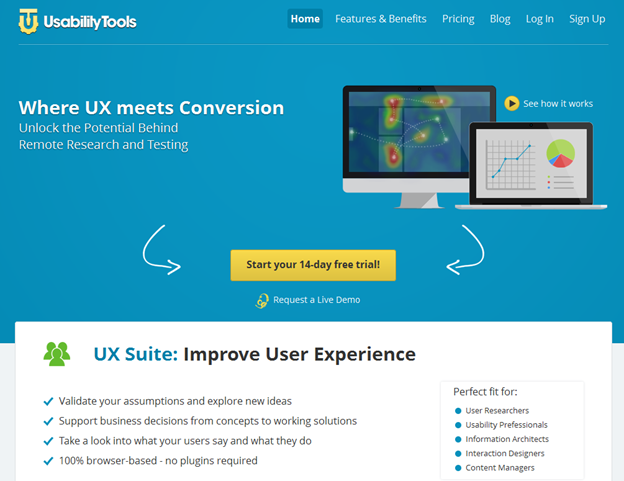 If you'd rather have all your usability tools together in one service, Usability Tools is an option. However, none of the tools are as specialized as what you'd get from an independent service focusing on one particular element (for instance, just recorded user tests or just heat maps).
Pricing is customized according to your needs. A 14-day trial is available, which lets you try all of the features of the program.
And while these usability programs are good for overall website tests, there may come a time when you just want to get user feedback and opinions on things like your website navigation, a proposed screenshot design or a wireframe. What should you do then? Here are a few options.
Getting Feedback on Individual Website Elements
Most user testing solutions are too expensive to be used on individual website elements. Fortunately, there are specific tools available for just these types of projects.
Testing Website Navigation with Treejack
Treejack is a user-testing program specifically intended for testing website navigation options. Each exercise is divided into tasks, and users are asked where they'd expect to find the answer based on the task: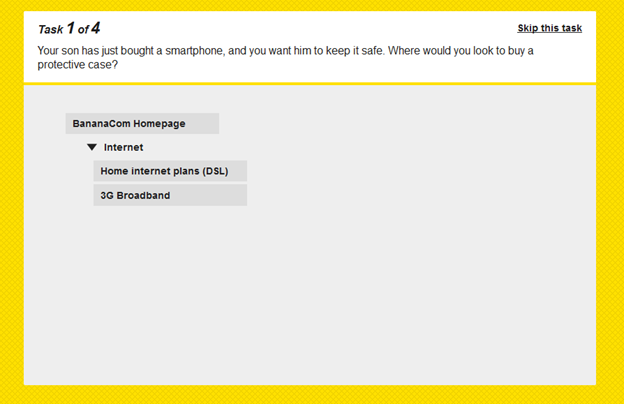 An example of a task in Treejack
From the survey-giver (your) end of things, you can see results based on submitted answers, how long it took for each task to be completed, and so on. Each task has the ability to drill down and get deeper, more meaningful answers. The survey will also tell you which users failed at the task and which ones skipped it altogether.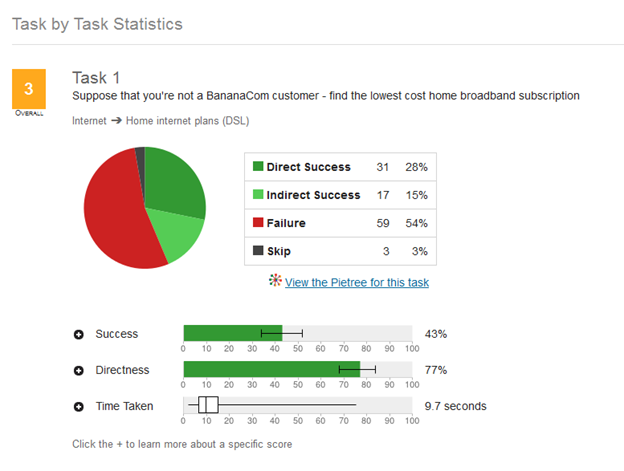 An example of results in Treejack
Testing Screenshots and Wireframes with Chalkmark
The makers of Treejack have also developed a sister product, Chalkmark, that allows you to upload sketches, wireframes or mockups and get users' first impressions about your design, the placement of new objects, and more.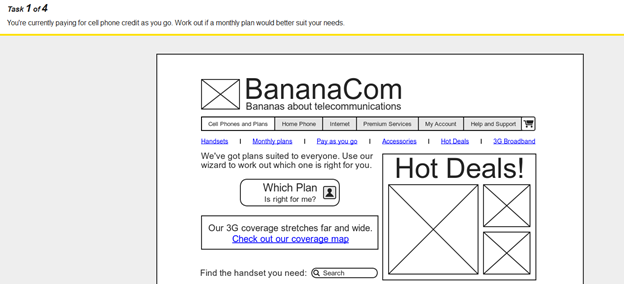 You can track the clicks each customer makes to determine if the placement of your elements is ideal for your target audience—a great way to achieve comprehensive, qualitative results without going full speed in the wrong direction with a new design.
Differentiation vs. Competition
By this point, you likely have a clearer idea of the type of market your site is serving. But your competition is also out there vying for your market's business and their hard-earned money. Any serious market has competition—if you don't, it's not because you've stumbled upon some magic 'gold nugget' niche—it's because either there's no demand for what you want to sell or people don't find it profitable enough to launch a business in that sphere.
Understanding Real Competition
Your job, then, is to make sure your target customer understands what you have to offer and how it differs from your competitors. Your job now is to make a simple list. On it, answer these questions:
Who are my biggest competitors?
What type of products/services do they offer?
How are these companies competing in my industry? (In other words, what are they competing about? Lowest prices? Originality? Expertise?)
What are my competitors' strengths?
After you've got your list, it's time to concentrate on what you do best that gives you a competitive edge in this market. More specifically, what are you going to do to differentiate your product from the rest?
More thorough/comprehensive service
Proven expertise in your field
Better parts/craftsmanship
Lower cost (Be careful about this one! You'll see why in this guide.)
Faster delivery
Better customer service
Whatever your reasons, it's not enough that you know them. Your customer has to know and understand them as well. To do this, you'll want to take steps to make sure they know what kind of value they get from your point of differentiation.
In some cases, it's obvious. Example: Company's faster delivery means our widgets arrive on your door fast and ready to assemble.
Other times, it's less obvious and needs explaining. Example: Better craftsmanship and smarter engineering. This needs more explaining, which could be done via a video comparing your parts/workmanship to that of your competitors or showing your portfolio to demonstrate your expertise.
Summary
In this chapter, we've covered some basic, affordable and easy-to-use tools for market research. Pinning down your target customer may seem like a boring step (especially when you want to improve your eCommerce website!) But everything else in the following chapters will hinge upon your ability to target the right people with the right offer at the right time.
Get that part wrong, and it doesn't matter how much traffic you have or what your search engine ranking is. People simply won't buy.
Take steps now to get your audience's feedback about your site and your products. Make a concentrated effort to clear any roadblocks or friction points that are preventing them from taking action. Gather their feedback and use it to make meaningful changes.
In the next chapter, we're going to look at the core of optimizing your ecommerce website—the shopping cart. The truth is, it doesn't matter nearly as much as you might think on which brand of shopping cart you use—most of them are robust enough to handle the basics. What really matters is your site's level of shopping cart abandonment.
We'll be taking a look at why people abandon their cart and how to prevent it—including using wish lists, split testing (and what to do if your split test goes wrong), testing prices, using urgency and more. If done right, each of these techniques has the ability to significantly improve your ecommerce conversion rate.
So what are you waiting for? Let's take a closer look under the hood of that shopping cart!