Ready for a sobering fact? We're going to kick off this interview with a shocking stat from a CRO report that we recently released:
This is a problem for some reasons, but chief among them is that marketers tend to spend a looooot of money and resources on getting people to visit their websites.
What happens when that traffic hasn't been optimized for conversions?
Answer: A whole lot of missed opportunities!
If you're part of the 69% that isn't yet investing in conversion rate optimization, now is a great time to get familiar with how experts think about the customer experience on their websites.
Here are our first few spotlights on the UX and growth marketing professionals who are making the industry a better place for all of us:
Placester's Director of Growth Marketing, Sam Clarke
Splunk's Growth Marketing Manager, Claire Peña
BigCommerce's Optimization and Growth Manager, Christopher Nolan
Tips on combining SEO and CRO, making smart design decisions, and optimizing your ad spend, right this way
Today we're sharing insights from Robb Fahrion, Partner at Flying V Group – an agency that specializes in digital marketing and advertising.
Flying V uses Crazy Egg's website optimization tools for all of their clients to understand how visitors are interacting with their sites.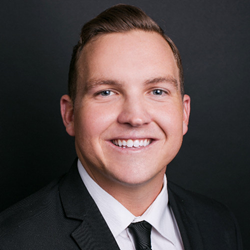 CE: A lot of the time, SEO and CRO are handled separately within a company or outsourced to different vendors. What we love about Flying V is that your website design services encompass both strategies. In your experience, what are the benefits of this approach?
The benefits of tying in SEO and CRO are enormous. The two go hand-in-hand when you consider how the effects of one determine the other's success.
Without CRO, it is hard for us as an agency to determine the real value of SEO efforts.
It is one thing to say that we drove a certain amount of traffic to the site. It is another thing to say we drove a certain amount of traffic to the site and converted the traffic at this rate because of CRO.
When it comes to a design or re-design of a website, we are always considering a couple of things when it comes to SEO and CRO during the build:
What information do we need to include? (SEO)
How should we display this information that we need to add? (CRO)
How do we position and tag this information for visibility and conversion? (SEO and CRO)
A site focused on both visibility and conversion is positioned well for success in getting visitors to take action on the site.
Often, when a client comes to us for SEO services, the first thing we need to do is reconfigure the site technically for SEO. The second is reconfiguring the site for actual conversion.
Conversion is our ultimate goal, and with our website design services focusing on both SEO and CRO, we are placing our clients at the 40-yard line instead of the 10 (had to sneak in a football analogy).
CE: Let's talk a little bit about paid advertising. How does it complement or add value to SEO and CRO as a marketing strategy?
Paid advertising is great because it is a direct infusion of traffic to your website almost instantaneously.
However, paid advertising comes with a lot more risk due to the platforms' higher costs versus other marketing channels.
The importance of converting traffic is even more present because the client is paying more, which means they expect more.
CRO is more crucial than ever when working on a paid advertising campaign.
The first thing we look at when a new client comes to us for PPC services is:
Can this website sell or convert?
We know that the right type of traffic will be driven to the site based on our account configuration and research, but will we see a return in the form of conversions?
As far as complementing SEO and CRO, we still take the same approach when designing a paid advertising campaign or landing pages for the campaign:
We focus on keyword-specific landing pages tied to ad groups for high-quality scores, and we build pages that use CRO best practices.
We also get more data more quickly. We can understand what people are looking for with a particular segment, and then we can understand user interaction with the site.
CE: You recently said that you use Crazy Egg to help your clients understand how visitors are interacting with their sites. How does that insight help you provide them with recommendations?
Crazy Egg's information allows us to understand better how a user is navigating through our site and our clients' sites.
While this type of information is somewhat available on free platforms like Google Analytics, the information is often buried and not presented in a usable format.
Our goal is to optimize every page of the site based on the specific page's conversion or interaction goal. Still, sometimes that becomes a futile attempt when we do not have the information presented clearly.
With users spending less and less time on websites, Crazy Egg is incredible in that we can accurately identify where our users are going and follow their flow through the site.
The information that we receive is also straightforward to understand. From there, we can work to design better those pages for conversion (whether micro or macro conversions) or dissemination of information.
Crazy Egg brought to light a bunch of new information on the Flying V Group site as a personal case study.
Right away, we noticed that a majority of users were clicking directly to our team page to find out more about us.
Unfortunately, at that time, our team page was TERRIBLE.
Instantly, we built a more robust team page with pictures of members and more information about the company to give users what they were looking for when navigating our site.
The end goal?
The visitor feels more comfortable with our team and calls us or submits a form.
Boom. Conversion Rate Optimization through Crazy Egg.
CE: Aside from Crazy Egg, what other CRO tools do you use to analyze websites and validate whether a change has made a positive impact?
Google Analytics provides a 'Behavior' section that is quite useful but does require some drilling into the data.
I only use a few.
Crazy Egg gives me much great information; I love the Confetti report, which pinpoints every click on our website and various data about the visitor based on the click.
Here are a few others:
Google Analytics
The information is not the most user-friendly, but there is valuable information here.
I like to see how visitors are navigating throughout the site and what pages people are landing on, and, more importantly, finding out which exit pages are most popular.
Google Optimize
Google Optimize allows us to run experiments on website experiences by changing our layout and seeing the response.
The tool is handy for paid advertising because we can launch landing pages specifically tailored for each ad group or keyword and get into some excellent comparison testing.
We are looking at things like conversions, bounce rates, and just overall user experience.
One of our biggest goals is to see how we can increase the user's amount of time spent on the site, and Google Optimize helps us with this goal.
CE: It's #humblebrag time! Can you share the client website redesign you're most proud of with us and explain why it was so awesome/effective?
Oh, nice! #HumbleBrag time. I recently wrote a Twitter thread on this specific case study:
A client came to us with a website built on @hibuUS and was desperately in need of new business and just some dang exposure.

A THREAD on how technical SEO changed his business and life and why I laugh when people say "SEO doesn't work"… 1/13
— Robb Fahrion (@RobbFahrion) April 2, 2019
A client of ours, Camelback Auto Glass, was with one of those pre-made website builder companies that charge an exorbitant amount per month for little to no "SEO" work. The type where if you want to move off the platform, they own EVERYTHING unless you keep paying.
Your website, your analytics. Everything but your domain name.
So, the client was unhappy because he did not see any results in calls or conversions.
The windshield replacement industry is extremely competitive for small businesses; I liken it to insurance sales or dental practices.
Not only that, but our client is competing against big players like Safelite and in an even more competitive metro hub in Phoenix, AZ. Glass breaks more where it is hot, I have now learned!
We took a look, and there was little to no technical SEO work on-page, and the site lacked any form of CRO in terms of design. We were happy they were keeping the site!
We were working on a razor-thin budget in terms of paid advertising spend — and when I say razor-thin, I mean $0.
Armed with this information, we knew SEO and CRO would be of utmost importance.
To cut to the chase, here are the numbers:
On March 25th, 2018, we had 488 site impressions and 1 click per Google Search Console.
On March 25th, 2019, we had 8,003 site impressions and 91 clicks per Google Search Console.
In March of 2019, the website had 1,390 visitors.
In March of 2019, we received 371 phone calls and 191 form submissions.
Throughout working with this client, I gained a new appreciation for the importance of SEO and CRO.
The new design positions many easy-to-use conversion tools, and each page acts as a landing page.
The effectiveness came from the fine details of messaging, conversion placement, and detailed keyword research for SEO.