Exporting a Snapshot allows you to have an electronic copy of all or some of your reports. Exports, by default, will include all 5 reports or only specific reports that you select.
Note:
You can also download the Snapshot Dashboard as a CSV file. Click on the export button in the top right-hand-side and then on the link on the bottom of the new window.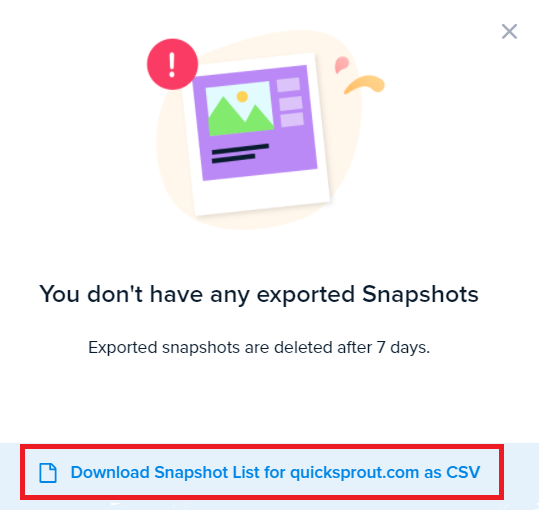 Here is a recommended process to help you get started.
Step 1

Once you have decided which Snapshots you would like to export, place a checkmark in the box to the left of the Snapshot name.



Note: We recommend only bulk exporting 25 Snapshots at one time.
Step 2

Once you have finished selecting the Snapshots you want to export, click on the Export icon in the dark blue field at the bottom.


Step 3

You now have a choice to export all 5 reports for the Snapshots or only certain ones.


Step 5

You can choose to email yourself the export. Download the files once the file is ready. Untick the box if you do not wish to receive an email.


Step 6

Click on the Export Snapshots button.


Step 7

Clicking on the Exports button will open a new window showing you that the Snapshots are exporting.


Step 8

When the export has been completed; a blue link will appear so you can download the Snapshots as a zip file.