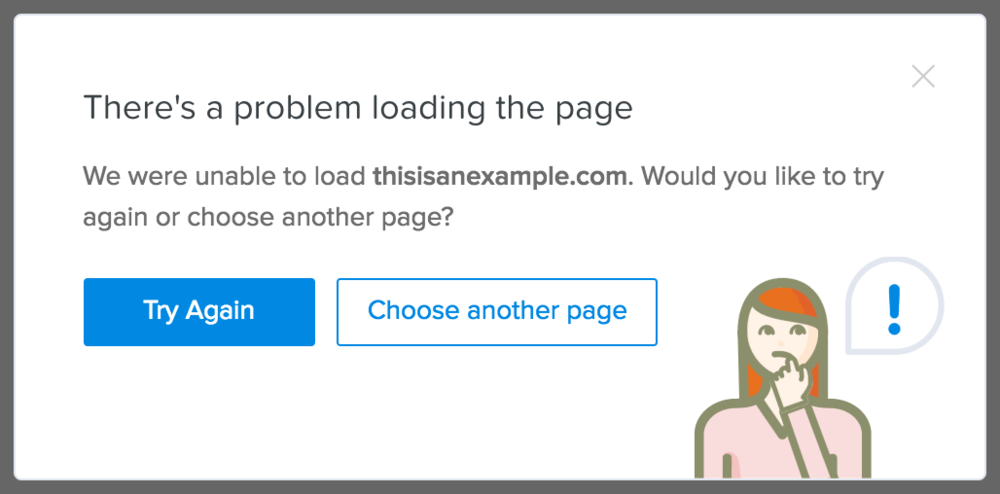 Why does this happen?
When using our Editor or A/B editor, the page may not pull up. This can happen for a variety of reasons.
Crazy Egg does not support A/B tests or Edits on gated pages. Gated pages include private pages behind a login, shopping cart pages, intranet pages, checkout pages, and pages behind a firewall.
How to Resolve this Situation
The following outlines a variety of steps you can check for and try. The options below are not in any particular order. Our Crazy Egg expert recommends reading over the options first before trying a solution.
Option 1

Sometimes when this happens it is because our server is not allowed to access the page. Check that the page loads consistently outside of Crazy Egg. Make sure you can reach the page in your browser, multiple times, outside of your business network. If the page doesn't load outside of Crazy Egg, it will not load in Crazy Egg either.

To resolve this situation, please contact our support team for the list of IPs to have whitelisted.

Option 2

Clear your browser cache and cookies. To learn how to do this for your specific browser, visit this page. Try the editor again.

Option 3

If you have an AD-blocker running or your browser is blocking third-party cookies then the page will not show up. You need to disable your ad blocker(s) when you're making edits within the Visual Editor. Or whitelist *.crazyegg.com

Option 4

Check the browser you are using. Currently, the following browsers support our editor: Chrome, Firefox, Opera, and Microsoft Edge.
Option 5

Typekit is an online service that offers a subscription library of high-quality fonts. Because these fonts are loaded via JavaScript to only previously allowed domains, you'll need to add the domain "crazyeggeditor.com" to the list of allowed domains. This will allow the correct fonts to be loaded within the Crazy Egg Editor

Option 6

If none of these options resolve your situation, please send us an email. Please include the page URL.