In just four months, we (Neil Patel Digital) increased conversions by 220%, Revenue by 300%, and Profits by 3000% for an eCommerce company called Century Hearing Aids.
We want to share the four types of most effective changes from our conversion optimization testing with you.
Overview
Century Hearing Aids had many assets when they approached our firm:
a large budget for PPC
solid gross revenue
a highly experienced PPC management firm optimizing their PPC campaigns
good products
great customer service
great reviews and great prices.
So why were sales and profits declining?
If you bid on competitive keywords, you know how hard it is to stay profitable when sales dip. The hearing aid market is competitive, and Century Hearing Aids needed to bid on many expensive keywords to generate good revenue. When their conversion rates began to suffer, they had to pull back their advertising.
Jon Stoddard, the owner of Century Hearing Aids, asked if we could help with his conversion rates. We needed to increase their conversion rates, so more of their visitors converted into paying customers. Increasing conversions would allow them to be more competitive with their PPC campaigns instead of scaling back.
And they needed it fast. We had to rely on our experience, instinct, creativity, and limited data analysis to get things started.
The Changes
Before we started, the site looked roughly like this: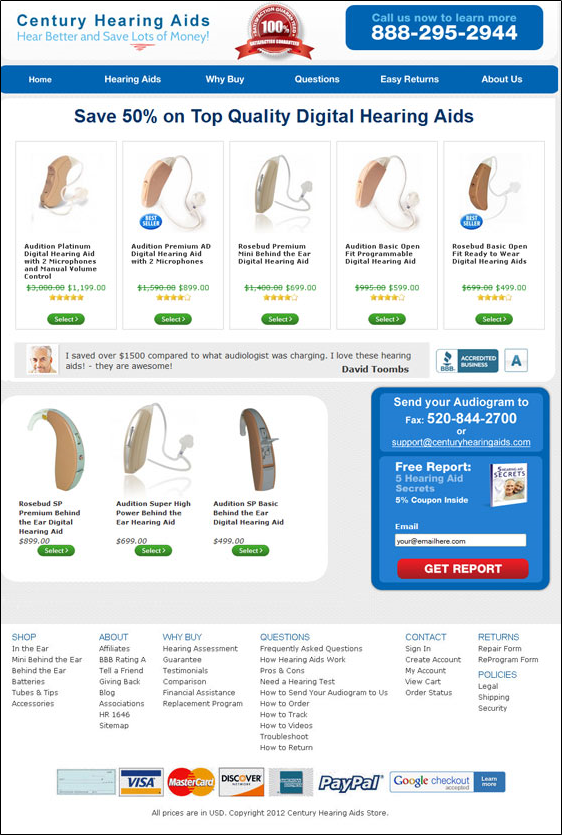 And this is one of the first mock-ups that we put up for the main page.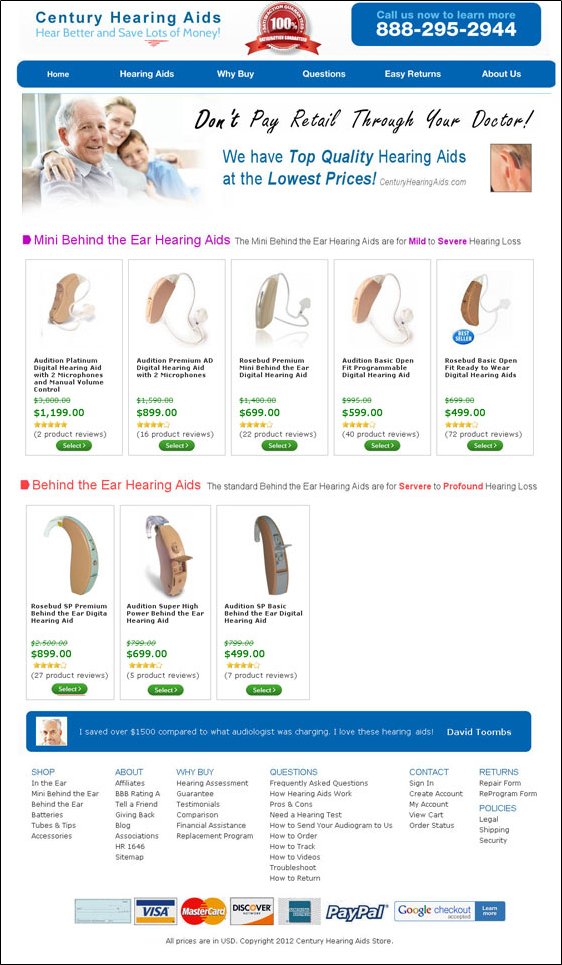 We made many small changes, but let's focus on the four categories of most effective changes.
The four categories we will focus on are:
Establishing Trust
Optimizing the Traffic Source
Adding Relevant Products
Adjusting Visitor Flow
Let's get into the details of each of these change categories.
Change Category 1 – Establishing Trust
This first image is what the site looked like when we got started.
We needed to communicate some things to establish trust with site visitors, but we did not want to add a lot to the page to clutter it. So we did the following to tell the visitor more with less.
Here are the changes we made to establish trust with our site visitors:
Minimal Design – We cleaned up the overall design. A clean, straightforward design does a lot to earn a visitor's trust. Part of simplifying the main page was removing the subscription form for the free report by focusing the main page on directing visitors to the products that interest them. Other internet marketers advised Jon (owner) to be aggressive at building a mailing list, but there must be a balance. Making a list should not interfere with selling a product. Selling a product is the primary goal of a site like this.
The image above the fold – We added a header image that depicted an older adult happily spending time with his family. What is better than being able to hear your family again? Pictures are worth a thousand words.
Answering the quality question – One of the significant reasons shoppers buy products online is the price, but customers might doubt the quality. Hearing aids cost thousands of dollars more if purchased through an audiologist. In the heading, we did NOT want to say these are heavily discounted hearing aids. We tried to switch focus to the doctors by saying they overcharge. We also wanted to mention these were quality hearing aids. So, we tested the headline "Don't Pay Retail Through Your Doctor! We have Top Quality Hearing Aids at the Lowest Prices!"
It is enhancing reviews – We wanted to show more than the product review stars. We tried to indicate the number of studies because it is impressive and generates trust through social proof. This instantly shows that the site has regular customers, it adds to the confidence, and it is a powerful link because people love to read customer reviews. The more customer reviews, the better.
Change Category 2 – Adding relevant products.
The business owner had removed "in-the-ear" hearing aids due to low-profit margins.
This was causing a severe conversion problem. In his PPC campaign, he was bidding on numerous keywords such as "digital hearing aids," leading traffic to his site searching for "in the ear" hearing aidsThisthis product represented over 50% of the market.
After realizing that this colly hurt sales and was missing out on additional profits, we suggested he put them back up for sale. This was a simple change that made an enormous impact on revenue and profits.
You mustn't miss out on converting a large percentage of your visitors due to not having a product that they might be looking for when coming to your site—the same for services. If you can easily offer a service that you think many of your visitors are interested show offer that service.
Change Category 3 – Optimizing the traffic source.
We discovered a possible issue with the keywords they were bidding on. These keywords did not seem like keywords used by people who are ready to buy hearing aids online.
A common mistake made in PPC campaigns is to bid on keywords that generate traffic that is not ready to buy. While the click-through rate may look stellar on these keywords, essential to take the next step to determine ROI from each keyword:
Which of the keywords below should this client be bidding on?
'hearing aids types and prices'
'hearing aid ratings.'
'in-ear hearing aids.'
'ear molds for hearing aids'
'does medicare cover hearing aids.'
I am a bottom-line guy. I want to see sales and profits. I can care less about click-through rates and the "performance" of ads. If ads are not generating sales, they are not performing in my eyes. Plain and simple. I broke down each keyword and checked the sales and conversion rates. Several of the most significant campaigns were losing a ton of money while the most profitable campaigns were not taken advantage of.
After I showed this to Jon, he let us change the campaigns. We were able to generate more PPC traffic while also increasing the conversion rates from that traffic.
Sometimes you can have a great site, but conversions will below if you aren't driving buyers to it.
Category 4 – Adjusting Visitor Flow
We moved the products off the main page.
We wanted to filter the visitors from the home page to product category pages instead of listing them on the main page. The category pages could then do a much better job explaining/comparing the products on the same page. This way, visitors did not have to guess which product they were interested in from the main page.
This is what the home page "filter" looks like today: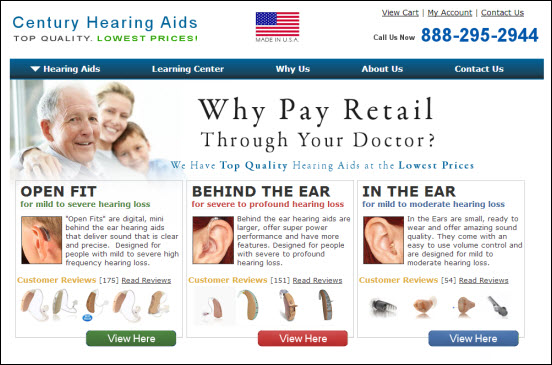 One of the concerns with doing this was adding an extra step to the checkout. We checked the data after a couple of weeks, and the checkout page visits were very low. We knew this might happen, and even though sales still were doing great, we were not satisfied.
We analyzed the visitor flow to see which part of the site people were dropping off. The main page and product pages were doing well. Most of the visitors were clicking through to other pages.
The category pages were the issue. A large percentage of people were dropping off of the category pages.
The category page looked like this…

Visitors coming from the main page to a page that compared the products' features was not a good idea. We developed the following page to give visitors a general description of the products to make an easier choice between them.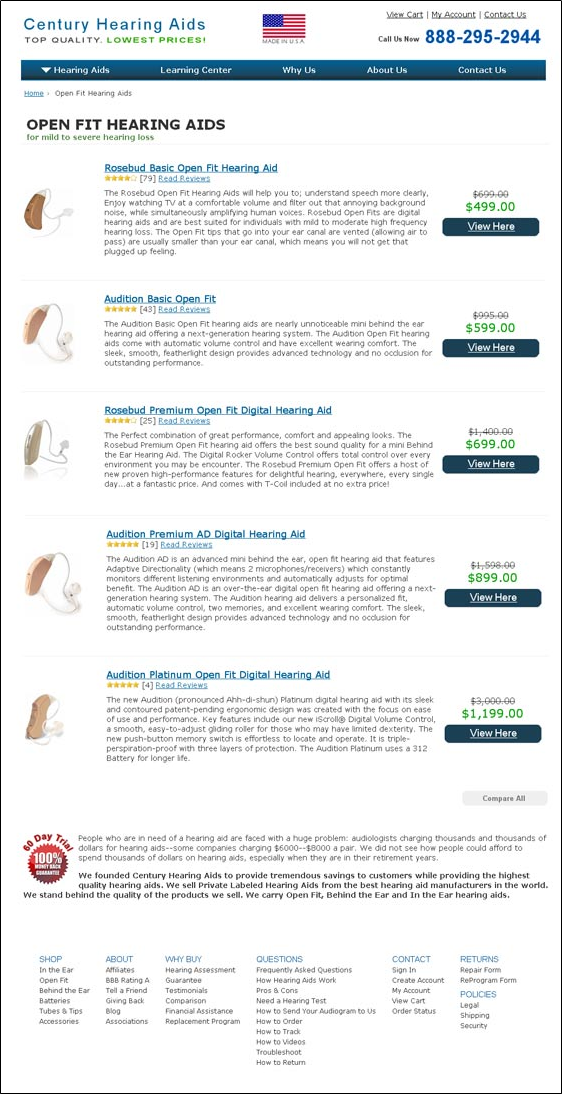 We made a lot of small changes, but those 4 types of changes were the most productive. Every site is a little different. Your site might need different types of changes.
In this case, concentrating on generating trust, optimizing the traffic source, offering what the visitor was looking for, and adjusting the visitor flow were very important for converting visitors into customers.