This is it—the moment you've been waiting for.
Everything you've done so far has led you to this moment. You can't afford to have your customer turn back now.
That's why optimizing the checkout page is a little-known but absolutely vital strategy to improve your ecommerce conversion rate (and boost your sales!) And although it's "just one page," the checkout can have a remarkable effect on your brand and all your other marketing efforts. Here's how to make sure that effect is the best it can be.
Allow Last-Minute Product Changes
There's perhaps nothing more frustrating than not being able to change your quantity, size, color or other facets right before checkout—and having to hit the back button only to discover that the page is no longer available.
Makes you want to just give up, doesn't it?
To prevent this, let customers double-check their order one last time. Show them the item, photo, size, color and any other relevant details so that the shopper can be doubly sure that what they're ordering matches their expectations.
Add Progress Indicators
Sometimes, having several steps in your shopping cart is a necessary evil—particularly if you're shipping items overseas. To help with this, you can include some progress or "step" indicators that let customers know what step they're currently on, and how many steps remain.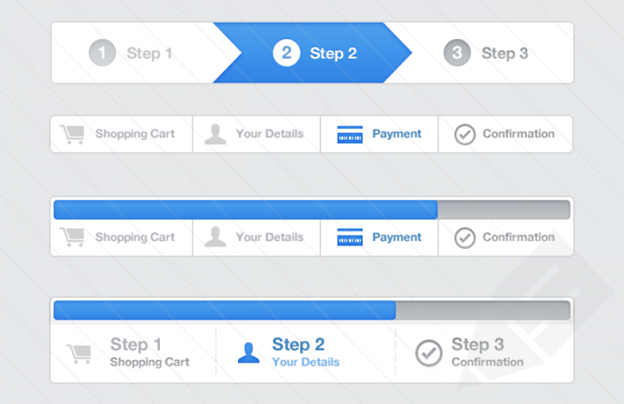 The Danger of Coupons
It's no secret that customers love coupons—but there's an inherent danger in making them available too often.
Of course, having coupons is a great way to encourage sales, but too many too often can have a chilling effect on sales. If customers are always accustomed to getting discounts on their order, they may find the normal price a bit too high and start searching elsewhere to get the deal they're after.
To combat coupon overload, use them where it makes sense—and, to encourage more people to sign up for your special offers, make coupons available to users who are subscribed, showing how much they've saved (on average) in the last month.
Have a Clear Call-to-Action
It's tempting to gloss over this part—especially when you exclaim "But I HAVE a Call to Action button!" It's not enough. Ask yourself: Can it easily be found amid all the other information on your checkout page? Is it large enough and color-contrasting enough to get noticed?
Keep in mind that now is also not the time for those business surveys, last-minute deal popups and other junk that only seeks to stop the customer from completing the checkout. Yes, they're in a buying mood—otherwise they wouldn't have come this far. No, that does not give you an excuse to pepper them with surveys at the last minute.
Call-to-action buttons should ideally be beveled and/or have a shadow to give them a button-like appearance. Another little-known graphics trick is to create an arrow either on the edge of the button or noticeable within it to give the illusion of forward movement.
An example of a beveled/arrowed button showing forward movement
Eliminate Unnecessary Form Fields
This is a sticky point for both shoppers and businesses. On one hand, customers want a personalized shopping experience. On the other, they don't want to give out too much information. But vendors want (and need) to be able to collect every relevant piece of data on a shopper they can.
There's a BIG trust factor looming on the horizon, especially when a brand asks a customer for personal information. How does she know you're not going to sell her information to the highest bidder or spam her with sale notices every time you mark down the price a little?
Having a clear, plain-English privacy policy is one step in fighting this. But considering how few people even read them, there's an even more positive step you can take: eliminating unnecessary form fields.
For example, if I'm buying a digital product, why do you need my phone number? I'd understand if it was a tangible item and something went wrong in shipping—that's something I'd definitely want to know. But digitally? It's just not necessary at this step.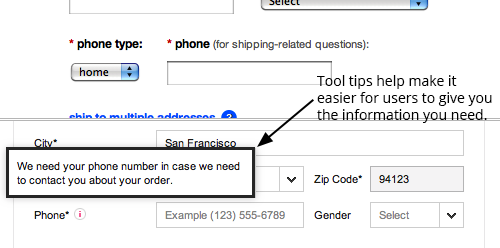 Some sites include tooltips to show why that information is necessary
Now, this doesn't mean that you can't come back later—after the sale—and ask the customer for more details. A quick survey about their personal shopping tastes in exchange for $10 off their next order? That will certainly encourage more prospects to open up.
But as marketers, we walk a fine line between giving our customers the kind of personalization and recommendations they want, and the limited information they're willing to give us. The more "in tune" you are with your prospects, the more they'll respect your request for additional details and provide them for a small incentive.
Acknowledge (and Relieve) Last Minute Jitters
HP created a remarkable campaign for its Slate tablet—complete with a corresponding landing page, email and matching marketing message to reel users in and present a sense of familiarity and excitement.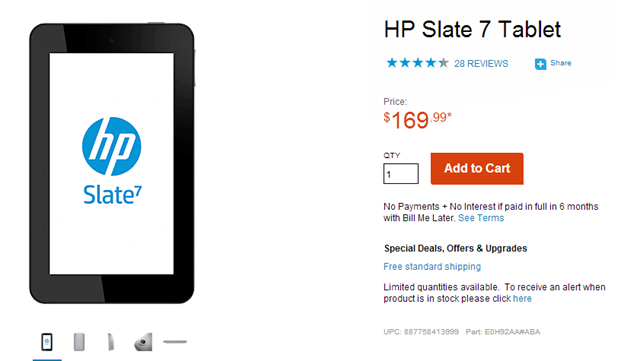 HP's Slate 7 tablet landing page includes all the components needed to relieve last-minute buying hesitation
Look a little closer, and you'll see just how smart this page is in addressing buyer behavior:
Large, Bold Title – The product title is at the top in a large, clearly visible font. There's no misunderstanding what you're about to buy.
Social Proof – The star ratings and clickable reviews give the consumer a confidence boost before they buy.
Large, Colorful Add-to-Cart Button – Price and quantity fields are also clearly visible.
Attractive Payment Terms – No payments, no interest encourages buyers to order now and be billed later.
Free Shipping – The biggest deal-clincher of them all (remember what you learned in chapter 2?)
And, in case the buyer has last-minute questions or concerns, there's this: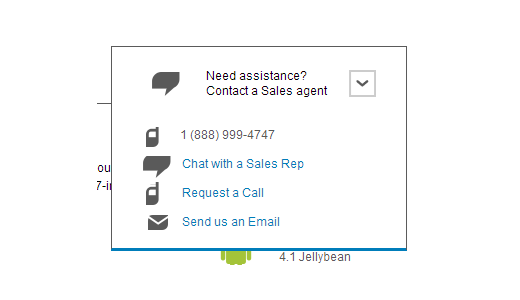 They can call, request a call, send an email or initiate a live chat directly from the sales page.
The Power of the Checkout Page
In this chapter, we've learned just how crucial the checkout page is as part of your overall ecommerce optimization strategy. But, it's important to note that your ecommerce experience doesn't just begin and end with your site. It can also include all the facets that your brand is attached to: namely, social and mobile channels.
In the next chapter, we're going to take a closer look at how to prime the pump of social marketing so that visitors are in the mood to browse and buy from the moment they see your page. It may seem like a tall order to fill—after all, it's called social media and not shopping media for a reason! But there are plenty of brands, large and small, that do this well. Let's learn from them.