Often, people who manage websites are excited to dig into analytics. Still, they're not sure how to bridge the gap between making observations on their website visitors' actions and taking action on those insights themselves.
To get valuable pointers from someone who runs website optimization experiments as part of his job, we interviewed Nate Murray, Demand Gen Manager at BlueSnap – an eCommerce payment services provider with a Crazy Egg customer since 2013.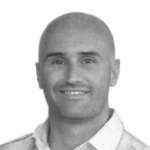 Q: How often do you use Crazy Egg, and what do you use it for?
I use Crazy Egg infrequently, but when I do, it's for pretty specific reasons.
It informs where we're putting CTAs and whether or not the choices we're making will be viable.
At BlueSnap, there are a certain number of countries that we have banking relationships with. Those are called PAYFAC, meaning that we are a payment facilitator in those countries. There's also non-PAYFAC.
So, we are basically running two different websites, PAYFAC and non-PAYFAC. It's all the same domain, but we display different information depending on the visitor's location.
If you're looking at the BlueSnap header, you'll see that we've got a "Talk to Sales" button and a "Sign Up" button.
For anyone who wants to do business with BlueSnap, if they're a merchant, they have to fill out an application, and they'd be clicking on that "Sign Up" button. It's pretty typical in the industry.
They're both bottom-of-funnel content, but with the "Talk to Sales" button, we start to inundate the sales team with low-value customers.
We want a mid-market, so we really want to put them through the Signup button.
The theory is, if we start to take away that CTA and push them down a different path, we'll be able to clear up some of the space and the bandwidth for the sales guys. So, we look at Crazy Egg in that regard.
We also use it for A/B testing.
Early on, when I started here, we designed a couple of landing pages. One of them was just a stock Unbounce landing page with a hero graphic and a CTA that drops you down on the page to a form.
We branded it and put it out there, but we realized quickly that it's probably not a best practice to have a form below the fold.
So, we tested that hypothesis.
We had another landing page with similar information, just a different design.
While Unbounce gives you a conversion, it doesn't allow us to truly test the conversions because it somehow conflicts with our WordPress instance. But we can look at Crazy Egg's reports, and we can see that people don't see this form, so we need to move it up.
Some interesting things: We decided that on all or most of our forms, we want to know the size of the business based on revenue, in terms of yearly volume.
Today, we were looking at these forms, and it turns out that that field is clicked most by people.
We're not getting the conversions that we want, but that's probably a good thing because we could change the order of the options that they can choose from so that we're creating a hierarchy of higher value leads.
It actually was pretty telling that our assumptions were true; that if we make these changes, people are clicking on this, but they're not converting, and they're not clicking the "Submit" button.
It's actually a good thing because we're filtering out low-value leads.
Q: What value do you get out of using Crazy Egg?
Your interface is super simple, super easy to understand, super intuitive.
When you're going through the heatmap or the scrollmap, there's a hint box, and it really helps because typically, what I'm doing is explaining it to leadership.
So, I tend to steal that language and say, "This is why this is important, and this is what it's showing"; otherwise, it just looks like a pretty map. So I can throw a screenshot up there and say, "This is where people are looking."
I was looking at these two landing pages where I know we're directing AdWords campaigns. In Crazy Egg, you've got that Confetti report where you can see where the traffic is coming from and what the referrer is.
So I'm looking at it, one's for Canada, and one's for the UK, and most of it's coming from paid search, which makes sense, and it actually tells you the campaign.
The SEM agency that we partner with has trouble communicating with or sometimes understanding what's going on. For one of those pages, it's not showing me paid search as a referrer, so I had to go back and say, "Why am I not seeing this? What's the issue?" It's a way for me to manage these guys.
My understanding was we were directing a lot of paid search to those landing pages and getting conversions, so it was actually pretty fruitful and eye-opening to see that conversions were somehow not registering.
I see this all the time, where some informal firewall keeps metrics from being recorded, but those are the things that the tool provides.
You've just got to look under the hood a little bit, and you get some insight.
Q: Who else at BlueSnap is using Crazy Egg?
We just expanded the team, so we have an in-house designer and developer now, so I'm sure the tool will get used a lot.
I think we'll all dip into it independently. That's the other thing about the tool — I can say, "This is what I'm seeing" and report it to others, and people know exactly what I'm talking about; everyone's familiar with Crazy Egg.
I'm not the only one who's used it and does use it.
But it's on an ad-hoc basis where I want to try to justify something, or I have a hypothesis, and I want to test it. Or I want to see how I can improve something an incremental amount.
Maybe that form field's just a little too long. To get in that sweet spot where peoples' eyes are, maybe we need to bring that "Submit" button up a little bit, removing a couple of fields of the form, and we'll get there.
If you're making these recommendations, it's good to say, "This is why I'm doing it, and this is what I expect to happen." You have ammunition.
We've got some changes we're making to the website, and we're working on messaging, and we're looking at Crazy Egg quite a bit.
Q: Are you running any A/B tests in Crazy Egg?
We had a UK page and a Canada page with the overall layout and overarching messages the same, so it was an informal A/B test because the content was different.
The UK pages were performing better. When I moved the form above the fold on the Canada page to match the UK page, I started an A/B test in Crazy Egg, and I believe we'll be able to capture some more leads.
I usually check back in about 60 or 90 days, but even with just a few thousand visitors, you get a good sense of whether or not you're right.