MUTCoinDeals, a video game supply company, was struggling with online sales. They turned to Ardeaux Media to increase their conversion rate, returning customers, and overall sales. In turn, who turned to Crazy Egg to give them some much-needed insight into the MUTCoinDeals website's visitors' interactions.
THE CHALLENGE
MUTCoinDeals realized they had to turn things around in a competitive gaming market but were not sure where to start. The challenge facing both MUTCoinDeals and Ardeaux Media was identifying what visitors to the site having trouble with were? After all, you can't fix what you don't know or understand.
The current tools at their exposure provided included data on conversions, demographics, and traffic sources. But this information alone wasn't enough. This information didn't help answer questions like what was preventing higher sales. Why were customers not returning?
Before Crazy Egg, we only had a few puzzle pieces: the analytics of conversions, demographics, and sources. Since then, we now see the whole picture of how visitors interact with the websites and make informed decisions on making them better.
THE SOLUTION
Crazy Egg doesn't just track data. Crazy Egg makes it easy to interpret your visitors' actions by showing you what visitors are doing on your site. From Snapshots and the 5 visual reports contained within User Journey Recordings, you will be able to see and understand what is happening on your site.
Snapshots are the fastest way to get an in-depth understanding of how your visitors are behaving on a given page(s). They help you identify where to focus your attention to make the biggest impact.
Looking for patterns on the Heatmap and Scrollmap report will give you a good idea of distracting your visitors. Are visitors interested in the material you are presenting (even a small %), and if so, what might you do to entice more visitors down the page?
The List Report can help answer questions such as what is causing your page to have a high exit rate. Or drill down on your page's most popular elements using the Overlay Report to find out who is clicking on your Call-to-Action (CTA's) buttons. Or find out just how popular those dead space clicks are and if you should make them clickable. The Confetti Report (an aggregation of all the clicks on your page) will roll everything up for you and let you gain a great insight into your visitor profile and where they are coming from.
There is a wealth of insight you can gain from these visual reports. And then there are User Journey Recordings.
Recordings let you see a sampling of individual visitors as they journey across your page. Look for lots of scrolling, or rapid clicks, or short duration and no movement. All of these will point you to things causing distractions for your visitors. Frustrations. And help you ask the question of what can you do to improve your site? What can you do to improve your visitors' experience?
THE FINDINGS & BENEFITS of using Crazy Egg
Ardeaux Media took Crazy Egg's power and coupled it with Google analytics to come up with a planned approach to find out what was happening on the MUTCoinDeals website. They started with creating Snapshots and setting up Recordings.
Almost 100% of MUTCOINDEALS visitors were from mobile devices, so Ardeaux created Snapshots to see how mobile users interacted with the site. After collecting data for a short time period, Ardeaux discovered two key things.
On the homepage, visitors were confused by the hidden menu and ended up scrolling and clicking on images that were not linked to another page.

Visitors were coming to this site ready to buy but were tripped up by the number of clicks it took to checkout. As a result, visitors were exiting and giving their business to a competitor of MUTCoinDeals'.
Armed with this insight, Ardeaux learned what was not working on the old site and took decisive action. Fixing what was wrong on the old site and creating a new site void of these issues.
THE FIX
"MUTCoinDeals original website was struggling to get sales.
Because of Crazy Egg, we learned that their checkout process was too
slow and not intuitive. So, we changed a few things around based on
the data from Crazy Egg, and their sales skyrocketed!"
The first thing Ardeaux Media did was to design a clear call-to-action for coin buyers and sellers, placing it above the first-page fold.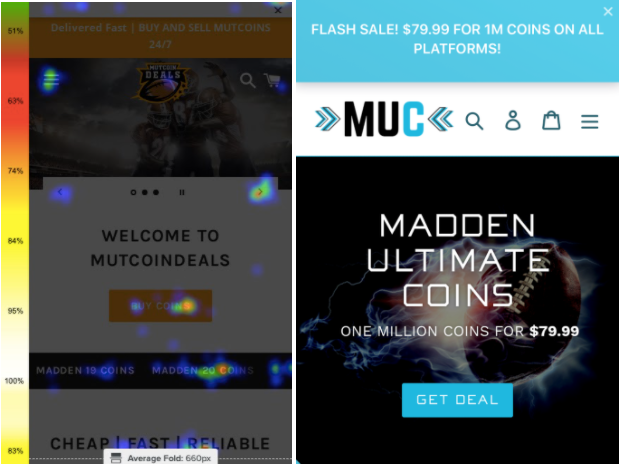 "We made it so they could get where they wanted to go with one
click and without having to scroll," said Tatum.
In addition to this, they added a plugin to make the checkout process effective and quicker and make a few of the contact icons clickable that were previously static images. The results were stunning!
AMAZING RESULTS
Sales on the original website increased by 132% combine with the 29 new orders resulting from the new website in less than a month, and you have a great cause to celebrate!

SURPRISING FINDINGS
After making these changes, Ardeaux found one surprise finding: a slight decrease in traffic to both pages. But that was okay. Even though there was drop-in visitor traffic, MUTCOINDEALS saw an increase in the number of returning visitors by 56%.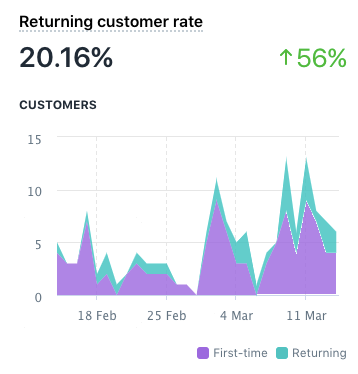 This shows that while driving traffic is important, it's even more valuable to improve the experience of those visitors who have reached your site.
To date, MUTCoinDeals continues to reap the benefits of this work. Continuing to monitor their visitors' interactions on their two sites, MUTCoinDeals pulls closer to the 250% increase in sales.
Ardeaux Media continues to use Crazy Egg to spearhead the changes they make on all their client's websites. Realizing, not only has Crazy Egg given Ardeaux concrete evidence of what the visitor's actions are on the websites, but it has also helped them make the users' experience more intuitive.
As Tatum concludes, "Crazy Egg has been our number 1 tool in optimizing websites. We feel that we can finally see the whole
picture of how visitors interact with our clients' websites, and we
know what to do to make them better."