Admittedly, Conversion Rate Optimization is not the sexiest term in the marketing world – but if you've ever run an A/B test where the variant won by a landslide or made a website design change that led to a significant increase in product purchases, you know firsthand how exciting and powerful CRO can be in action.
Marketers who specialize in conversion rate optimization are often a rare mix of analytical and creative; tactical, and intuitive. They need to get inside a customer's head, but they also need to dive deep into data.
Often, CRO professionals are tasked with:
Reducing friction in the user experience
Maximizing existing traffic
Mapping creative changes to internal success metrics
Though they frequently make small improvements, the impact on a small business or large corporation's revenue over time can really add up.
To shed some light on the fascinating world of conversion rate optimization and the people who live in it, we recently launched CRO Heroes! If you missed our first interview with Placester's Sam Clarke, you could check it out here.
The Importance of Opinion vs. Data
For the second round of the series, we interviewed Claire Peña, Growth Marketing Manager at Splunk – a software platform for machine data.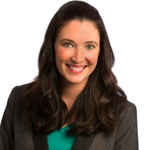 CE: Your experience as a marketing professional has been all over the map, from specializing in search to focusing on data analysis and conversion rate optimization. How do all these pieces fit together?
I started in a big digital agency with a group of us sectioned off to specialize in SEO/SEM for clients. It had just started to pick up steam when businesses realized that it's a smart area to invest in if you want to achieve a positive ROI on marketing dollars.
Between our group bouncing ideas off each other and having a big company's resources for training with Google, it was an ideal situation for beginning my career.
I fell in love with the quick returns and instant data access of the SEM space specifically. You can wake up the next morning and monitor optimizations you made the day before on an account. The power of data became acutely real, and I was hungry to venture into other digital marketing channels to understand each's benefits.
Across all digital channels, it became obvious how impactful the landing page experience was to your outcome – whether you measure time on site, conversion rate, or straight revenue generation.
I became fascinated with CRO, testing anything from CTAs to content, UX, and visual design. It introduced me to data analysis and completely opened up my marketing worldview.
CE: What's currently in your marketing tool stack, and how has technology helped you throughout your career?
Technology has completely changed my job.
My day-to-day tool stack consists of:
Digital marketing dashboards (Ex: Google Ads & Analytics)
VWO for A/B testing and Heatmaps
Pardot and Salesforce for Automation/Ops
Bizible for full circle attribution
Periscope for data visualization via SQL
It's a mouthful, but it's increased my personal and team's productivity tenfold.
CE: What's a common challenge you've observed or mistake you to see people making regarding data analysis and testing?
Hands down, the most common challenge is patience, and the most common mistake is jumping to conclusions before statistical significance.
Data analysis and testing are empowering because it takes out bias, which is natural to human nature. But if you rush the tests with too low volume, it's all for nothing.
It's important to pick the most impactful tests for the business first. It could take an entire quarter to get the full picture results, and you don't want to waste that time waiting for something that won't move the needle.
CE: It's humblebrag time! Tell me about one or more A/B landing page tests you've run that have had surprising or significant results.
One company I was with was having trouble deciding on messaging the product, which is in a complicated space that's hard to convey. A lot of opinion and anecdotal evidence was being brought to the conversation.
Instead of making a decision rashly, our team suggested running a split URL test of our homepage, with the old messaging serving 50% of traffic and the new messaging serving the other 50%. We tracked trial and demo form submissions on each.
After a while, it was clear the new messaging resonated better. Our conversion rates were much higher on the test variation than the control.
This was impactful to the whole business, from trade shows to product marketing to elevator pitches. It was great to see digital testing have a big overall company impact.
CE: In your opinion, what benefits does CRO bring to an organization?
CRO is directly impactful to the business, and all results are measurable. It takes opinion and assumption out of certain business decisions. I've been proven wrong by data too many times to count.
It's humbling and ultimately good for the bottom line. I'm currently in the B2B SaaS space, and we can tie digital channels through the website experience and into our product.
Our Growth Team consists of marketers, designers, product managers, and web developers, all coming together and running tests to optimize our mid-funnel experience constantly.
It's exciting and directly affects revenue – what's a better position to be in than that?