Have you ever scratched your head in wonderment about why the visitors are clicking there on the page? I mean, clearly, there is no link there. Or what about the rage clicks?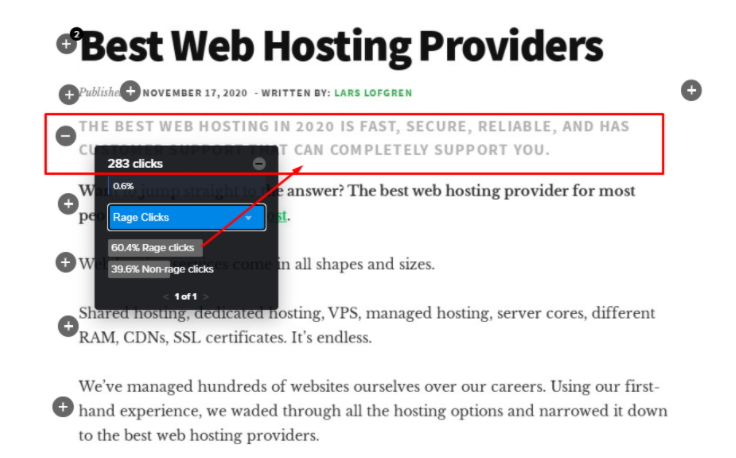 So why are visitors doing this? Simple. They are trying to tell you (or rather showing you) what it is they want.
Example One: An article that explains how to drive more traffic to your website contains a paragraph that receives more clicks than the paragraph below that has a link in it. What are visitors trying to tell us?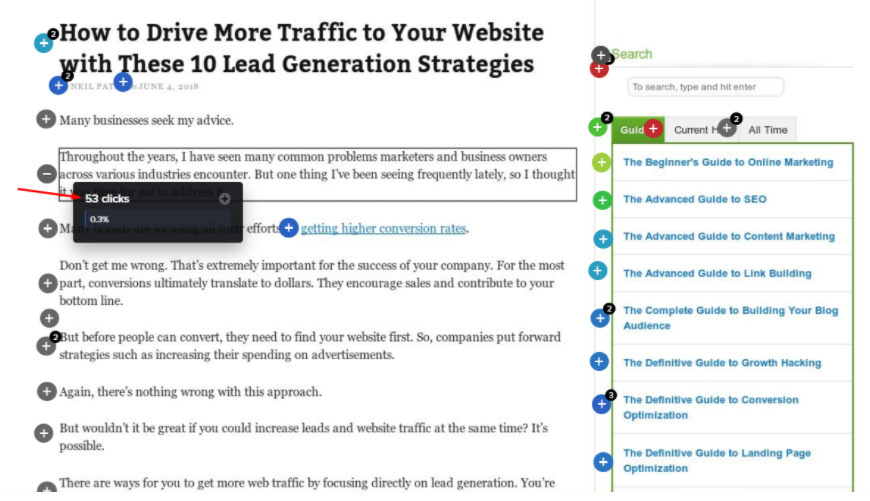 This one was a puzzler for the analyst. It took a lot of thought and questioning until that day when the analyst realized what the visitors were clicking on.
"I have seen many common problems marketers and business owners across various industries encounter."
The visitors wanted to read material about the common problems others like themselves had. Once the analyst realized this, they set to make this sentence a link to the article linked below in the second paragraph. And do you know what happened? An uplift in the click-through rate to the new article! Success.
Rage clicks are similar when you see in your snapshot that visitors are rage clicking in areas where there are no links. No actionable items. Stop and ask yourself what is it the visitors are trying to tell me? Are they after more information? In most cases, that's it exactly.
Other times, rage and dead space clicks show you an issue on your site.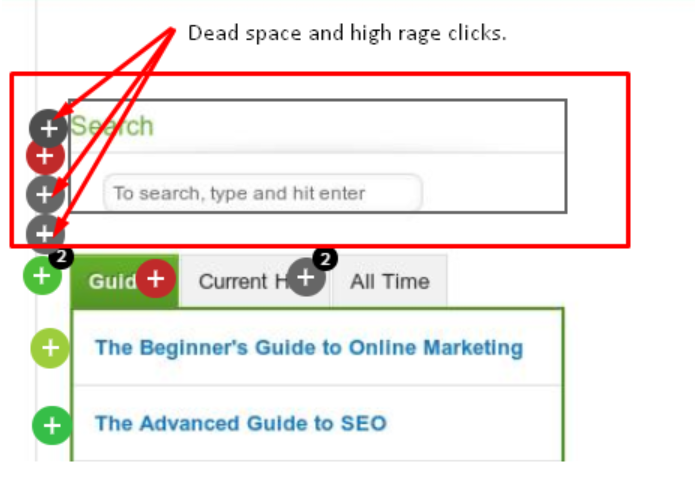 Example Two: When using the Overlay Report, be sure to put the Both filter on and look for groupings of both dead and active clicks.
In the image above, we have three different dead space clicks. All three total 336 missed opportunities to provide the visitors with a better experience. To allow them to search the site easier.
Looking for opportunities to improve your UX design can be as easy as looking for dead and rage clicks on the page—visitors who click just outside the clickable area. Or when the element is slow to show as active, it can cause rage clicks.
In both of these examples, you can spot the red flags and apply quick-win fixes to improve your visitor experience. All of which can lead to an uplift in your on-page conversions.